Sadly hamsters have rather short lifespans, depending upon their species they can live anywhere between 2-3 years. Some live longer and others pass sooner. Giving them the best life possible is important to help them stay healthy and then hopefully they will live to a ripe old age. It is at that point that new considerations must be taken in order to keep your hamster happy in their golden years.

Old age seems to take effect depending on the individual hamster. It will depend heavily upon their genetics along with the quality of their upbringing. Many hamsters from pet stores and poor quality breeders do not have long life spans, as they have not been bred for long lifespans. I have seen hamsters show signs of old age just before or around the age of one year, other not until they were closer to two years and others still until they were past the age of 2.

The Symptoms of Old Age
o Hamster begins to slow down. They aren't moving as fast and perhaps not as much either.
o Your aging hamster's gait may stiffen; this is usually caused from arthritis.
o Hamster may sleep for longer periods of time.
o Hamster's fur may begin to thin as well. (If red skin, dry flakey skin, scabs or other symptoms occur with this than old age may not be the cause, a vet should be consulted).
o The hamster may also not be quite so concerned with keeping their coats in as perfect of condition as they once did.
o They may not make it to their "potty corner" as often.
o The hamster may also start to have issues eating hard foods as their teeth become weaker.
o The hamster's hearing may not be as sharp as it once was.
o Your hamster's eyesight may not be as strong as it once was either.
o Your hamster may gain weight as they are not moving about as much.
o On the other hand your hamster might start to lose a bit of weight as they aren't eating quite as much.
o The hamster's fur may begin to pale as they get older and depending on the species and colour they may begin to "silver" (fur begins to go grey or silver).

What You Can Do
• As your hamster slows down and you find them sleeping more it is important to find time to ensure that they do get some time out of their cage to walk around a bit and get their muscles moving and to help keep some of the excess weight off. This will help to keep them from feeling too stiff. This does not mean that you need to wake them up and force them to exercise, respect their space and allow them to sleep as they wish. You need to find a balance between their need for exercise and respecting their age and all that comes with that.
• With age, arthritis can also come with it. This is usually seen with your hamster walking stiffly and their gait seeming odd. They walk this way because they are in pain, the best way to help your hamster so that they do not have to suffer from this pain is to contact a vet and look into a pain management medication such as Metacam so that they can live comfortably.
• If your hamster is having trouble keeping their coat clean then you may need to assist them. Brush their coat with a clean toothbrush can help. You may also need to take a barely damp, warm cloth and wipe their underside to remove and feces or urine, especially as they may not use their "potty corner" as often. Be sure that they are dry afterward too. A chill at their age can do serious harm.
• As hamsters age sometimes their teeth become more sensitive and they have trouble eating hard foods. Supplementing softer foods alongside their regular food can help to keep them healthy. Foods such as baby food, oatmeal, mashed potatoes, mashed vegetables, yogurt and lab blocks soaked in a bit of water to make them mushy. This should help them maintain a healthy weight when they seem to be losing it.
• As your hamster's eyesight and hearing begin to weaken you need to ensure that you give them more warning before handling them or being near them. They may not sense you right away and bite or run away out of surprise and fear. Just make sure not to pick them up from behind, rustle the bedding and let them sniff your hand first. Basically let them know you are near them before you try to handle them.
• You may also need to modify your hamster's cage as well so that it is easier for them to live in their own home, even in old age. Read below for more information on how to modify your hamster's home.
• Extra nesting material, such as ripped up toilet paper, should also be added for your hamster's bed so that they may be comfortable and can have an easier time staying warm. If the temperature is rather warm in the room than this might not be necessary.

• You may also need to modify your hamster's cage. Remove levels, vertical tubes, steep ramps, difficult climbs and any other obstacle that may pose a problem for your aging hamster. Not all hamsters need these things removed right away, just as soon as you see them having a problem with it or if they are suffering from arthritis. A large, single cage with floor space, rather than multiple shelves and multiple cages, is best for an aging hamster so that they can have an easy time moving about.
Along with that ensuring that the wheel is low enough for your hamster to step into it easily (or the bedding is high enough to allow for this) as well, the water bottle should be low enough that your hamster can drink from it without needing to stand on their hind legs completely.

Bracing for Loss
Hamsters do have short life spans in comparison to our own and so once your hamster reaches old age, one must begin to brace themselves for the inevitable passing of their pet. Take pictures, spend as much time with them as possible and remember them and all of the good times spent with them. When they do pass perhaps find a nice place to bury them, create a memorial or have them cremated if you wish. Death is part of life, and we can only take comfort in the fact that we have done our best to give them a good life.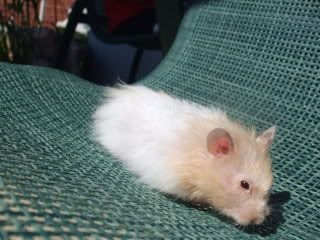 My dear elderly Damion (2006-2008)